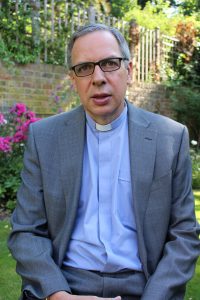 Lent – a season of spiritual spring cleaning
Spring is my favourite season of the year. I love the first shafts of sunshine that begin to break through the dark, gloomy clouds that have for so long dominated a long, hard winter. As this sunshine begins to get warmer, life which for so long has appeared to be absent from our gardens and hedgerows, returns in the form of snowdrops, bluebells, crocuses, daffodils, tulips, budding trees and bushes and an array of colour. Wildlife also returns as those clever migratory birds who spend their winter in warmer climes join the mice and squirrels who have been hibernating in snug little burrows.
There is so much to do in the spring time, in the garden as we prepare the soil for planting, and in the home as we take advantage of the opportunity to throw open the doors and windows and give the house a good 'spring cleaning'. The idea of a good spring clean is to tackle cleaning parts of the home, office, church or school that we haven't been able to get at for some time. Inevitably, we turn up all sorts of odds and ends – lost buttons, old bits of soap, empty packets of crisps that should have been thrown out long ago, but had got lost in the midst of the clutter. It can be messy work and the dust is throws up can take hours to settle.  But once it's done, you feel so much better and the sense of achievement is tremendous.
Ash Wednesday (March 6th) will soon be with us. So, begins the season of Lent. The original meaning of which was 'Holy Spring'. Traditionally, it was the time of the year when people new to Christianity were prepared for their baptism at Easter. Today, Christians are often encouraged to use these 40 days, which remind us of course of the period Jesus spent in the wilderness at the start of his ministry, for a sort of 'spiritual spring clean'. Like the house spring clean, the type of regular prayer and bible study many churches follow in Lent, make us to look at parts of our lives we may not have looked at for some time and may have preferred to avoid. Those who have regular followed Lenten bible studies know that this exercise frequently throws up dust that takes some time to settle, but most would agree that this exercise is more than worthwhile. Lent is a time above all a time to clear out of our lives all that is evil or unhealthy and to turn back to the God of love who wants us to rediscover him afresh.  The prophet Joel puts the invitation this way: 'Come back to the Lord your God. He is kind and full of mercy; he is patient and keeps his promise; he is always ready to forgive and not punish' (Joel 2:13)
May you all know the rich blessings of God's grace this Lent.
Reverend Richard Grocott
(Superintendent Minister)
Lent Courses around the Circuit
 All are welcome to attend any of these sessions; please contact individual churches for more details:
Anerley led by Rev Abe Konadu-Yiadom: Reflecting on 'A History of Christianity' by Professor Diarmaid MacCullough; weekly sessions on Monday evenings from 11th March – Monday 15th April, 8–9.30pm
Burnt Ash led by Rev. Bill Tardy in the Memorial Room; the theme of the weekly sessions is "The Mystery of God": Wednesday 6th March (Ash Wednesday), 13th, 20th and 27th March, 3rd & 10th April, all starting at 11am
Eltham Park led by Rev Richard Grocott: A five week lent course beginning on Thursday 14th March, at 8pm; called 'Finding a voice', and based on the film 'The King's Speech' 
Lewisham led by Rev. Richard Grocott: A five week lent course beginning on Monday 11th March, at 7.30pm: based on The Beatitudes