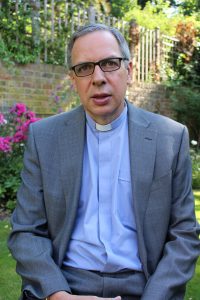 April 2021
Easter 2021
This joyful Eastertide,
What need is there for grieving?
Cast all your cares aside and be not unbelieving
Come share our Easter joy
That death could not imprison,
Nor any power destroy,
Our Christ, who is arisen.
 (Singing the Faith 314)
Dear Friends,
This hymn by Fred Pratt Green, the late great hymn writing Methodist Minister reminds us of the joyful theme of the Easter season. I write this message on one of the first days of spring, which following a cold winter has quite suddenly seen the arrival of milder, drier and sunnier weather. Very soon, all around us will be the signs of the changing season; flowers and tree blossom coming into bloom, the arrival lady birds, and migratory birds. All these remind us that life, which laid low for so long over the winter months is at last 'springing up green.'
This is going to be the second Easter we will celebrate since the Covid 19 epidemic hit our country. Just as spring is a season of hope and anticipation, so we are increasingly hopeful that as infections rates are falling and vaccines are being rolled out, the government's roadmap out of lockdown points to a better future. For this reason, our circuit meeting on 10th March 2021 agreed that churches may return to worship from Palm Sunday (28th March) as long as they keep to their Covid risk assessments.
A number of churches have decided to return to worship from Easter onwards, others have decided to wait until later. We don't wish anyone to feel under pressure, and we recognise that some may still be isolating for some time yet. At the same time, we want to offer all who do so desire, the opportunity to worship safely in church this Easter. I do hope and pray that this Easter will be a joyful festival for you all. Whether you celebrate Easter in church or watching our circuit on–line services, may you celebrate the joy of the resurrection of our Lord Jesus Christ from the grave.
As we travel through the Easter season, let us be reminded of the many ways in which the risen Jesus appeared to his disciples following their discovery of the empty tomb on that first Easter day. He appeared to them in the Upper Room, as they were fishing on Lake Galilee and as they were walking along the road to Emmaus. Each of these appearances offered not just a joy to those early disciples but are also offering joy to us today. They remind us that there is no moment in our lives, and no location in our world which the risen Jesus cannot transform into hopeful places of encounter with God. Jesus also tells us that anyone who believes and trusts in him will be blessed with the gift of eternal life. In other words, Jesus overcame the power of death not just for himself, but for all of us, and all we need to do is believe to know this truth.
I wish you all a very Happy Easter, may it be an uplifting and encouraging season of growth for you, your families and all your loved ones, and may you know the joy that comes from a life in Christ, Amen.
Richard