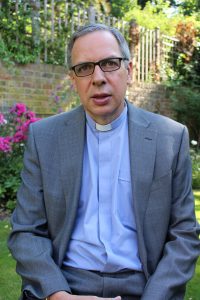 Dear Friends,
'It's from the old I travel to the new; keep me travelling along with you' (StF 476)
Moving on from the old to the new, as Sydney Carter's hymn 'One more step along the world I go' reminds us, can be a challenging business.
The next few months will be a time of great change in our circuit as Bill and Renate prepare to leave us, and as Rohama and Asif prepare to join us. Change, as Jongi steps aside as our District Chair and Nigel takes over. Change also for Abe, our Probationer, and her churches at Upper Norwood and Anerley as they prepare for her ordination this summer.  Preparing to say goodbye to the old and embrace new is never easy. Most of us would prefer to avoid too much change which can leave us feeling threatened and vulnerable. This fear of change can also influence the way we think about our faith.
The writer of the book of Ecclesiastes was a very clever man, a philosopher who also had great faith in God. It seems he was searching for truth in life, and at times, his book reflects the despair of his frustrating search. But by chapter 3 he had come to realise that there was meaning in life, and that meaning was to be found in the ever-changing nature of the world in which God has placed us.
'For everything its season and for every activity under heaven it's time…..a time to embrace and a time refrain from embracing'
Just as we have embraced and been embraced the ministry of one friend, so soon we need to be ready to refrain from that embrace and instead to welcome the embrace of another.
Jesus also expected his friends to embrace change and move on. When the disciples threw down their fishing nets and followed him, they were embarking on a very uncertain journey of faith. 'Foxes have holes, and birds of the air have nests, but the Son of Man has nowhere to lay down his head' he told them in Matthew 8:20.  Meaning that the follower of Jesus has to be willing to move on and embrace the future with courage.
In all of this, remember that we do not travel alone. We travel with a Saviour who knows what it is to experience painful change that led him to the cross. We travel also with the strength and guidance of the Holy Spirit who will give us the knowledge and the strength we need to move on with confidence to a brighter and better future.
Kind regards,
Richard
Reverend Richard Grocott
(Superintendent Minister)